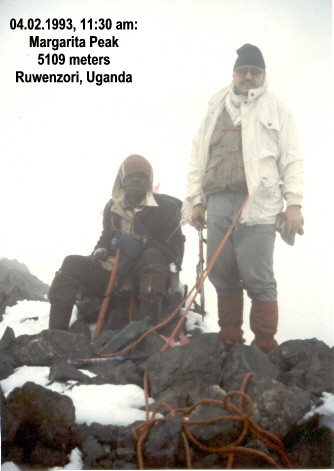 Am 4. Februar 1993 habe ich mit einem Führer
und einem zweiten Deutschen den Gipfel des
Ruwenzori Gebirges, den Peak Margarita (5109 Meter hoch),
nach 4-tägigem Aufstieg (von der Basistation gerechnet) erreicht.
Wir waren als 5-köpfiges Team gestartet, 3 Mitstreiter mussten wegen
Höhenkrankheit an der vorletzten Hütte aufgeben.
Together with another German and our Ugandan guide,
I reached the Margarita Peak (5109 metres),
the highest point of the Ruwenzori mountains, 4th February 1993.
It took us 4 days to get there. We had started at the base camp
with a party of 5, but three of my conmrades had to give up
due to altidude sickness 2 huts below.